Welcome to MODENAS Membership Program
Join us and be part of a large community that shares your passion for MODENAS. Register now and start enjoying many benefits that are designed to maximize your ownership experience.
START ENJOYING MODENAS
MEMBERSHIP BENEFITS TODAY
We just love treating our loyal customers. Get a gift on your birthday, member offers, new product sneak peeks. Here are some of the benefits that you can enjoy when signing up for the MODENAS Membership:
Sentiasa memberikan yang terbaik untuk pelanggan setia kami. Jadi sebahagian daripada keluarga MODENAS dengan mendaftar Keahlian MODENAS hari ini dan nikmati pelbagai faedah serta tawaran yang menarik :
Upon new registration, member receives an eVoucher up to RM15 value. You can redeem the voucher at our eShop.
Setiap pendaftaran baharu, ahli akan menerima ebaucar sehingga RM15. Ahli boleh menebus baucar tersebut di eShop kami.
Get special discounts through eVoucher for labour fees on your birthday.
Dapatkan diskaun melalui ebaucar untuk caj perkhidmatan pada hari kelahiran anda.
Each member gets to enjoy up to 15% discount on original parts at MODENAS Service Center.
Nikmati diskaun sehingga 15% dengan pembelian alat ganti tulen di setiap Pusat Servis milik MODENAS.
Periodic special shopping offers for members at eShop.modenas.my
Tawaran beli-belah khas berkala untuk ahli di eShop.modenas.my
Get the latest update, promotions and exclusive member invites for all upcoming MODENAS events
Dapatkan informasi terkini, promosi dan jemputan eksklusif dari MODENAS.
Free 24-hour breakdown towing service within 100km radius round trip to the nearest MODENAS authorised service dealers. (up to 4 times a year).
Percuma bantuan 24 jam kerosakan di jalan raya dalam lingkungan 100km radius dari wakil pusat servis MODENAS berdekatan. (sehingga 4 kali bantuan / setahun)
Get RM10 eVoucher if you get your friend to sign up for the MODENAS Membership under "Refer a Friend" program. You can redeem the voucher at our eShop.
Dapatkan RM10 ebaucar jika anda Berjaya membawa rakan anda mendaftar untuk Keahlian MODENAS. Anda boleh menebus baucar di eShop kami.
Who can apply?

All existing registered MODENAS bike owners
Siapa yang layak memohon?

Semua pemilik motosikal MODENAS yang berdaftar.
How do I register the MODENAS Membership?

You can apply by clicking the "Join Now" button at the top of this page. Or you can request and scan Membership Registration QR Code at any participating MODENAS dealers/service centres.
Bagaimanakah cara untuk saya mendaftar keahlian MODENAS?

Anda boleh memohon dengan menekan butang "Sertai Sekarang" di bahagian atas halaman ini. Atau anda boleh meminta dan mengimbas Kod QR Pendaftaran Keahlian di mana-mana pusat pengedar/pusat servis MODENAS yang mengambil bahagian.
How do I renew the MODENAS Membership?

There is a "Renewal" button in your online member account. Please click the Renewal link and proceed with the online payment.
Bagaimanakah cara untuk saya memperbaharui keahlian MODENAS?

Terdapat butang "Pembaharuan" dalam akaun ahli dalam talian anda. Sila klik pautan Pembaharuan dan teruskan dengan pembayaran dalam talian.
How much do I have to pay for the MODENAS Membership?

There will be a charge of RM60 for registration.
Berapa yang perlu saya bayar untuk Keahlian MODENAS?

Terdapat caj sebanyak RM60 untuk pendaftaran baharu.
How much is the cost to renew my MODENAS Membership?

Your card will be valid for duration of 1 year and the annual renewal fee is RM40. (within 3 months from the date of termination of membership).
Berapakah kos untuk saya memperbaharui Keahlian MODENAS?

Keahlian anda akan sah selama 1 tahun dan yuran pembaharuan tahunan adalah sebanyak RM40. (dalam tempoh 3 bulan dari tarikh penamatan keahlian).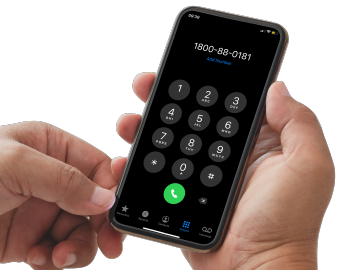 Customer Call Centre
For enquiries, kindly contact our toll free line at 1-800-880-181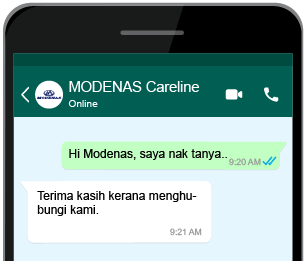 Customer Careline
We are now available online to serve you better. WhatsApp us at +6019-570 8135 Every Monday - Friday, from 9am - 5pm